Courthouse Technologies is pleased to announce that the Washington County Court of Common Pleas has begun implementation of a new jury system! The court located southwest of Pittsburgh, Pennsylvania has entered into a subscription agreement with CHT to implement Courthouse JMS along with Courthouse eResponse, our browser-facing self-service application; Courthouse IVR, our telephony self-service application; Courthouse IDS, our summons/questionnaire imaging peripheral, and; Courthouse SMS, our text-messaging service for jury management. The project will replace the Court's current jury management system.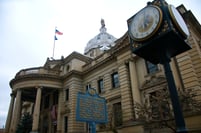 With the RFP award, the Washington County will be the 5th Court in Pennsylvania to utilize the Courthouse JMS platform. "Having another court in Pennsylvania subscribe to Courthouse JMS is very exciting", says CHT President of CHT, Scott Kerr. "As our company grows, we can develop more products and services that make our solution more and more complete. We get the collective knowledge and input from everyone who uses our technology and put in the system for everyone's mutual benefit. "
The project will begin at the beginning of February, 2016, targeting the summer for Go-Live. They will be able to deploy new technologies they sought after in the RFP like text-messaging, summons imaging, telephony services, and online juror access. We are looking forward to helping Washington County reach their jury management goals!