Courthouse Technologies is pleased to announce that the Placer County Superior Court has begun implementation of a new jury system! The court located northeast of Sacramento in Roseville, Auburn, and Tahoe City, California has entered into a subscription agreement with CHT to implement Courthouse JMS along with Courthouse eResponse, our browser-facing self-service application; Courthouse IVR, our telephony self-service application; Courthouse IDS, our summons/questionnaire imaging peripheral, and; Courthouse SMS, our text-messaging service for jury management. The project will replace the Court's current implementation of Jury +, Jury System Incorporated's jury management system.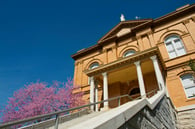 With the
RFP award
, the Placer County Superior Court will be the 1st Superior Court in California to utilize the Courthouse JMS platform. "We are very pleased to be selected to help them
improve their jury management operation
. We look forward to working with the jury staff there", says CHT Vice President of Client Services, John Arntsen. "It's an opportunity to do business in California and with Placer's help, show the rest of the State how we can help them improve and progress with new technology."
The project will begin at the beginning of 2016, targeting the summer for Go-Live. This will allow the Placer County Superior Court to incorporate new communications and address-validation services that will add efficiency and convenience to the public and make life easier on the jury staff in providing this essential service.