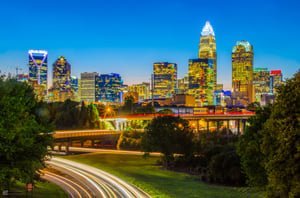 Courthouse Technologies is pleased to announce that the Mecklenburg County, North Carolina has begun implementation of a new jury system! The court located in Charlotte has entered into a subscription and hosting agreement with CHT to implement Courthouse JMS along with Courthouse eResponse, our browser-facing self-service application; Courthouse IVR, our telephony self-service application; Courthouse IDS, our summons/questionnaire imaging peripheral, and; Courthouse SMS, our text-messaging service for jury management. The project will replace the Court's current in-house jury management system.
With the RFP award, the Mecklenburg County will be the 1st court in North Carolina to utilize the Courthouse JMS platform. "We are very pleased to be selected to help them achieve their jury-related goals," says CHT Vice President of Client Services, John Arntsen. "It's an opportunity to do business in a new State where we can learn and grow with Mecklenburg's input and insight. They are a forward-thinking group which makes their goals and our goals are aligned. That's what makes a project like this so exciting."
The project will begin at the beginning of 2019, targeting the summer for Go-Live. This will allow Mecklenburg County to incorporate new communications and address-validation services while taking the responsibility of maintaining a JMS off their hands through Courthouse Cloud hosting services. We are looking forward to another successful implementation!