Courthouse Technologies is pleased to announce that the Livingston County Circuit Court has begun implementation of a new jury system! The court in Howell, Michigan has entered into a subscription agreement with CHT to implement Courthouse JMS along with Courthouse eResponse, our browser-facing self-service application; Courthouse IVR, our telephony self-service application; Courthouse IDS, our summons/questionnaire imaging peripheral, and; Courthouse SMS, our text-messaging service for jury management. The project will replace the Court's current implementation the State's JIS jury management system.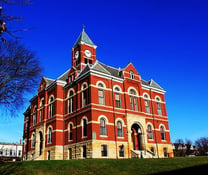 The "Crossroads" County positioned equally between Lansing, Flint, and Pontiac will be the 13th court in the state to sign up with CHT. "We are excited to help another court in Michigan switch from a 2-step to a 1-step court and improve their jury management operation", says CHT President, Scott Kerr. "We have a track record of helping courts cut their mailing by 40-50% when making the switch to a 1-step jury process and we think Livingston will be no different."
The project will begin in February, targeting the end of Summer for Go-Live. This will allow the Livingston County Circuit Court to incorporate new communications and address-validation services as part of their switch to a 1-step process. This will add efficiency and convenience to the public and make life easier on the jury staff by cutting down on redundant mail and communication.