The Americans with Disabilities Act (ADA) is a Federal civil rights law that prohibits discrimination against people with disabilities. Under this law, people with disabilities are entitled to all of the rights, privileges, advantages, and opportunities that others have when participating in civic activities, including jury duty. This can apply to the physical access required to be a juror like courthouse or courtroom access as well as self-service functions available to the public, like online services, communications, and software. The question, then, is how can your jury management system accommodate someone with a disability with the same access as everyone else? How can we achieve this? Where are the areas to focus on?
The first place to review is your self-service, online functionality. Allowing jurors to complete their questionnaire, make requests, and see their next reporting date has become a standard for jury management. The website you offer must make all reasonable attempts to be as accessible as possible for as many people as possible. You can do this by using the WCAG 2.0 AA standards, which detail guidelines and tests to help you be ADA compliant.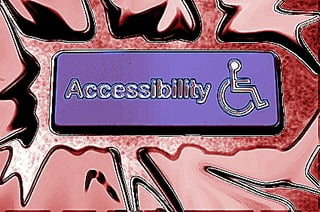 The second area of your jury operation you can address is the juror check-in and attendance process. By adding an ADA-compliant kiosk, you can provide the same self-service ability to all jurors. ADA compliant kiosks have flexible form factors such as adjustable height touch screens which can be raised or lowered as the individual juror's requirements dictate. You can see examples of this technology from a company like Mighty Touch out of Wisconsin.
Finally, increasing the array of methods you provide jurors to access their jury information, the more likely you are to be ADA compliant. You can accommodate a greater portion of your juror-eligible population by providing a wider range of options. For example, if a person cannot see, they may be able to use an IVR telephony system. If they cannot hear or speak, they may be able to use an accessible online system. By providing multiple and different methods of interaction to your jury system, you increase the chances of including someone who has a disability.
By making your jury operation ADA compliant, you are not just providing equal access to those with disabilities, you are letting the public know that you are making improvements that are long term. It is always good to keep in mind that your jury operation is one of the most public aspects of a court's operations and being inclusive far outweighs the initial costs of compliance. You are showing that the court's continuing goal is to engage as much of the public as possible. That is when the court system is at its best, for the people, by the people.