Courthouse Technologies is please to announce Orange County Circuit Court in Orlando will begin using Courthouse JMS in connection with Infax's Jury Call Solution to display panel information in their jury assembly rooms, starting in 2017.
CHT has always believed that the secret to an efficient jury operation is the ability to have open and transparent communication with the public. They are a resource that should not be wasted or taken for granted and providing them with the information they need serves the court as much as it serves the public. That is what makes this collaboration so beneficial. Instead of calling out names from a list and hoping people are listening, the Florida-based court will have panel information from Courthouse JMS display on the Jury Call solution, providing a great visual aid, streamlining the process of gathering potential jurors for panel selection or providing other useful information jurors may need while serving.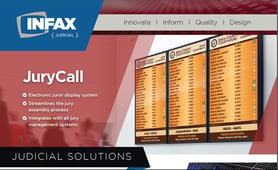 "The integration of the Infax and Courthouse Technologies solutions helps spotlight the future of technology at Orange County," says Infax Director of Sales, Maddie Flowers. "The systems work together seamlessly to show juror information and paneling in real time as well as provide a new communication outlet between court and patron. We are very excited to announce the initial Infax and Courthouse Technologies deployment and are confident that it will bring innovation to courthouses across North America."
The best part of this integration is that it does not require any customizations in Courthouse JMS. The center of the CHT platform is able to be configured so users can automate the export of the required file necessary to be used in Jury Call and display the desired set of information. This means other courts wanting to display juror-related information via Infax's platform can choose what data is exported from the system via the JMS's "Export Definition Wizard" function. Once it is setup, you are good to go!
Whether you are current customer and want to incorporate more visual aids and services to your jurors or you are looking to improve you jury operation and include Jury Call as part of your upgrade to Courthouse JMS, be sure to contact me at jarntsen@courthouse-technologies.com or Maddie Flowers at mflowers@infax.com.