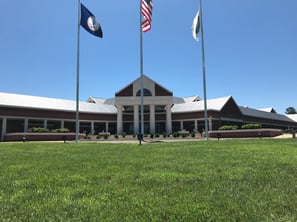 Courthouse Technologies is pleased to announce that the Chesterfield County Circuit Court has signed on with CHT to implement of our Jury Platform! The court in Chesterfield, Virginia is subscribing to use our core system, Courthouse JMS along with Courthouse eResponse, our public facing self-service application; Courthouse IVR, our interactive voice response system; Courthouse IDS, our summons image and data capture system; Courthouse SMS, text-messaging service; Courthouse Kiosk, our kiosk software for jury management; and, Courthouse SummonsDirect; our summons-questionnaire printing, mailing, and address verification service. The project will replace their current legacy system and will be the 2nd county in Virginia to enter into agreement with Courthouse Technologies.
"We are excited to help Chesterfield County improve their juror communications and transparency," says VP of Client Services, John Arntsen, "They are making a substantial investment in showing that the public's time is valuable but needed and we want to help them facilitate that in the est way possible." The project kicks off this week with the goal of going live by early 2020.
This is also the first contract CHT has outside the State of Texas using the Texas DIR (Department of Information Resources). CHT was awarded a contract with the DIR back in the Spring of 2019 and allows any State and Local Government to use the DIR's collective purchasing agreement to acquire our platform without the need of a lengthy procurement mechanism like an RFP or RFQ. If you have any questions about how you can take advantage of this agreement, please give us a call at 1-877-685-2199 or email us at info@courthouse-technologies.com.