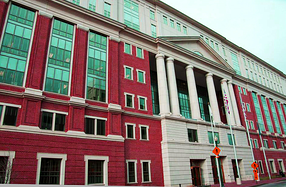 Courthouse Technologies is pleased to announce that the Chester County Court of Common Pleas has signed on to begin implementation of the CHT Jury Platform! The County has purchased site licenses for Courthouse JMS along with Courthouse eResponse, our public facing self-service application; and, Courthouse Kiosk; our self-service kiosk for jury management. The project will replace the County's existing jury management system and will be the 3rd county in Pennsylvania to enter into agreement with Courthouse Technologies.
"We are extremely happy to have Chester County sign on and utilize the jury technology we offer," says VP of Client Services, John Arntsen, "Their goal was to update their jury operation and provide their staff and jurors with convenience features that streamline the process. They definitely came to the right place!" Online access, reducing paper-based processes and self-service check in are just some of the goals the County has in mind while getting a more inclusive and accurate source list.
Chester County will be added to the growing list of courts utilizing the JMS's integration with the National Center for State Courts' Jury Manager's Toolbox. Because using the JMT is required for all courts in Pennsylvania, we wanted to make the data collection and calculations necessary were as easy and as streamlined as possible. We will also be in communication with the State AOC regarding some of their required reporting to provide the growing number of clients in the State with what they need in the best possible way.