In my many travels this year I have had the pleasure of debriefing new clients after going live with Courthouse JMS. Over and over, I have been told the same thing as part of my conversation; "We had SOOOO many jurors show up the first day. We had more people than we knew what to do with." Every time I heard this, I smiled and made a note to myself to address it in a future article. Now here we are…
Although a trend of having too many jurors might seem like a bad thing, but if you consider how this trend impacts the bigger "jury picture", you'll quickly see that it's the best thing that can happen to your jury office. Obviously, it is important to understand actions that create higher jury yields (something I have covered in a previous movie) but I thought it might be even more important to analyze why this should be one of the most crucial statistics you are looking to improve at all times.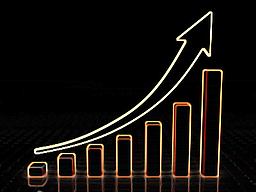 Why is a higher jury yield so important? By definition jury yield is the number of jurors you have report for service compared to the number of people you summoned for any given day. A higher jury yield is crucial because it relates to number of people your office deals with on a daily basis and is a direct reflection of your jury operation's efficiency. Typically, if your jury yield is going up, it is because more jurors are receiving their summons OR more jurors are responding to their summons. This is because both instances lead to a higher juror turnout. The best possible outcome would be both the number of delivered summonses and the number of responses to go up. The ultimate goal is to get a summons in more peoples' hands.
Let's look at some numbers….
As an example, if your Response Rate rises, your jury turnout goes up as the number of delivered summonses goes up. Concurrently, if your Deliverable Rate rises, your jury turnout also rises as your Response Rate goes up. Either way, the increased turnout boosts your overall jury yield because the number of summonses you mail has not changed. You just have a higher percentage of jurors reporting. If you can achieve both a higher Response Rate and a higher Deliverable Rate, you really start seeing results and saving money as your turnout numbers go through the roof!
However, as I wrote at the start of this article, you simply do not want more people to report. The number of jurors required has not changed. And you do not want poor juror utilization to undo all of the progress made with a higher jury yield. The solution is to send out fewer summonses over the same period of time to get your "required number". Fewer summonses means less of a footprint on your county to administer justice. Your higher jury yield is starting to pay off…
Mailing fewer summonses means you inconvenience fewer people for jury service. It means jury staff have to deal with less people, paper, and labor to get the "required number" of jurors through the door. Remember… The summonses you mail are not just pieces of paper. Each represents a person, a specific amount of work, a unit of measurement that determines the efficiency and quality of your jury operation through statistics like yield and utilization. The more people to deal with means more money and time wasted.
Better statistics mean you require less of the population to get the job done. It means you are using less paper; using less of the postal service, requiring less data entry and of course, everyone's time and money. A higher jury yield is a "win-win" for everyone.
A higher jury yield positively affects every aspect and statistic of the jury process while saving you time and money. It has been proven time and again by agencies like the National Center for State Courts. Automation and technology integration like our SummonsDirect service is something to consider. Perhaps you too will enjoy the happy problem of too many jurors.