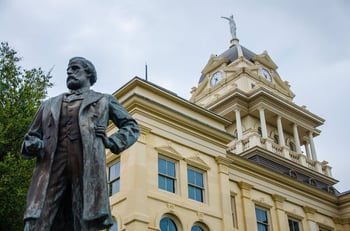 Courthouse Technologies is pleased to announce that the Bell County District Court has signed on to begin implementation of the CHT Jury Platform! The court in Belton, TX is subscribing to use our core system, Courthouse JMS along with Courthouse eResponse, our public facing self-service application; Courthouse IVR, our interactive voice response system; Courthouse IDS, our summons image and data capture system; Courthouse SMS, text-messaging service; and, Courthouse SummonsDirect; our summons printing, mailing, and address verification service. The project will replace the County's existing jury management system and will be the 4th county in Texas to enter into agreement with Courthouse Technologies.
"We are excited to have another court in Texas sign on with us," says VP of Client Services, John Arntsen, "With the success and savings seen in Tarrant and Nueces Counties over the last few years, we are looking forward to helping another court in the State achieve similar goals." Bell County is also very excited that they will be able to communicate with their jurors more effectively. "It's going to save time on everybody's part," District Clerk Joanna Staton said. "If it (court) should cancel, then they will be able to be notified by email or text. Even that morning, they will be sent something that they do not need to report."
With the project underway, the goal is to be up and running by the end of 2018. This will allow the County to start a new year with a new jury system and a fresh approach to engaging the public. Just look at what Nueces County did in 2 years. We look forward to Bell County continuing this trend of saving time and money in Texas.